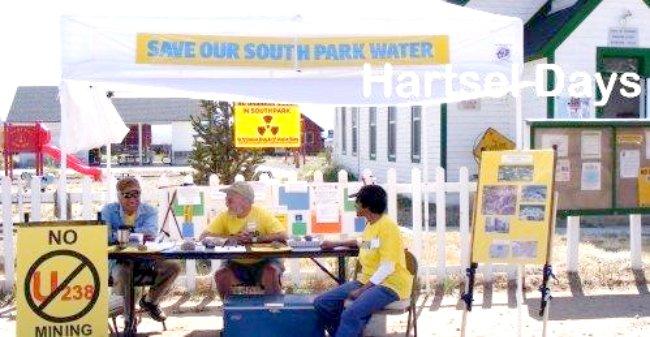 On Nov. 30, SOSPW08 and others met with a key member of Gov. Ridder staff. Details of the meeting will posted as we draft a summary of said meeting. We have positive expectation from the tenure of the meeting.

Meeting of SOSPW08 to provided updates on latest rule and regulation status of Mining Bills HB 1161 and SB 228 Mtg. Date - Sat., Sept 5th 2009, Hartsel Pavilion; 12 to 2 PM; Burgers / Dogs will be served. (
see poster
)
Latest SOSPW08 News Letter (dated 11/20/09 can be viewed here) Link
SOSPW08 News Letter (dated 07/14/09 can be viewed here) Link
SOSPW08 News Letter (dated 05/12/09 can be viewed here) Link
View the Sept. 16th 20o8 News letter emailed to our membership. (
link
)
A very important meeting initiated by SOSPW08 took place on Sept. 5th. SOSPW08, TAC, CARD, Westen Mining Action Project, Trout Unlimited, met with
Harris Sherman
the Executive Director of the
Colorado Department of Natural Resouces
along with Rebecca Swanson, the Senior Policy Analyst representing Gov. Bill Ritter's
office. We presented our thoughts and concerns about the rules / regulations process that will define the implementation aspects in HB 1161. Our involment was encouraged by the Director and He indicated that we would be kept informed on the scheduled events that are pending. The sense of the meeting was that this was going to be a though process and that it would require our upmost diligence to prevail.
The Aug. 30th meeting was well attended and attendee's were given an update on what has transpired in the last two months and what is up coming. The DVD was viewed and given a thumbs up review. A voice over text feature will be added to the DVD as the first modification prior to its first release. Other suggestions that were made will be incorporated later. Minutes will be forthcoming.
Here is the
link
to order a SOSPW08 Tee Shirt.


SOSPW08
has schedule a
meeting
to be held at the Hartsel Comm. Cntr. ,
Aug. 30th at 1:30PM
. The meeting will serve to give an update on recent activities during the summer. Other information will also be provided. Review of a DVD that is being produced will also be shown to attendee's. See announcement -
click here
.
A meeting was held on Aug. 9th, at 1:30PM at the Hartsel Comm. Cntr. with the Park County Land and Water Trust Board. The meeting served to address the mutual concerns and interest of Park County citizens, property owners and of the
PCLWT
. Views were presented and requests made. The specific requests were to be taken under advisement.
View SOSPW08 letter on this meeting and Hartsel Days activity. (Photos 1, 2, 3, 4, 5 )
Hartsel Days Activities took place on Aug. 2nd & 3rd. SOSPW08 had an informational booth set up. Folk came by and visited, chatted with us, picked up some literature such as our latest News Letter, our brochure, signed our petition to the PC Commissioners, etc.
We held a meeting, July 25th, with two representatives from the Dept. of USGS to exchange information about proposed uranium mining in South Park and to give them a field tour of the area in South Park that has been staked. We are seeking more definitive information on the geological and hydrological structure of the proposed mining area. They agreed to search out historical information that is currently on record and supply us witn information about same.
The minutes for the June 7th meeting are on line and the latest News Letter is posted also. Minutes; Newsletter
Uranium mining boom brings gloom - By Mark Jaffe The Denver Post
Must visit sites >
CARD
POWERTECHEXPOSED
TAC
INFORM
EARTHWORKS
WISE
In Situ Problems
Who Owns the West
URANIUM
Forum
IMPORTANT NOTICE
Channel 2 News Piece (MP4)
Alternate
Link
_
Reform the Ripoff! The 1872 Mining Law
Hardrock Mining - Re-think; Reform
Mining the New American West
New uranium mining halted at Grand Canyon Link
Radioactive Déjà Vu in the American West
By Chip Ward
The PCWPC met on 6/11/08 in Jefferson, Park County. A copy of the newsletter that reports on the meeting's subjects of discussion and other items will be mailed to the SOSPW08 email list for this meeting.

AULT TOWN BOARD OPPOSES IN-SITU URANIUM MINING IN NORTHERN COLORADO Link

The Fremont County Commissioners voted in favor of the Conditional Use Permit (CUP 08-001 Taylor Ranch Exploration/Black Range Minerals) that was requested by the mining company. This is a definite setback for the citizens trying to protect their water sources and property value. Check details Link

SOSPW08 Ltr. to the Fremont County Commissioners. Concern about their upcoming vote on a Conditional Use Permit being requested by a Uranium mining company. Link
County Commissioners Table Black Range Minerals CUP Link
SOSPW08 Ltr. to Director of Colorado Department of Natural Resources Division of Mined Land Reclamation and Safety. Link
Uranium Claim Staked! Press Article on Staking on Private Property

Here are some industry reactions to HB 1161's passage:
http://www.mineweb.com/mineweb/view/mineweb/en/page38?oid=53416&sn=Detail
http://www.world-nuclear-news.org/print.aspx?id=17958